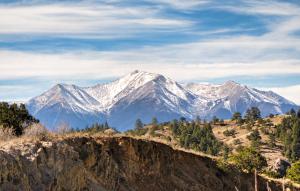 For Immediate Release
Contact: Robert Meyers-Lussier
Robert Meyers-Lussier Photography
(303) 995-0030
rml@rmlphotos.com

WINTER PARK, CO CONDOMINIUM TO INSTALL ROBERT MEYERS-LUSSIER ART IN ALL PUBLIC SPACES

Winter Park, CO - October 3rd, 2015: Lion's Gate Pines Lodges Owners Association has decided to install over 40 individual photographs from award-winning Colorado photographer Robert Meyers-Lussier, to be placed into thematic groupings, in all public spaces. In total, over 100 photographs will be displayed in over a dozen different groups. Photos taken represent artist Meyers-Lussier's work with botanicals and landscapes from locations in and around Winter Park, CO.

"Winter Park and areas surrounding have been an inspiration for me, artistically," says Meyers-Lussier. "My very first photos of the area were actually take at the Lion's Gate grounds. They plant a beautiful garden every year, and I started taking photos of the flowers. As I...