May 11th, 2014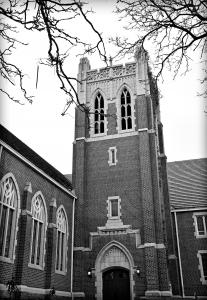 11 May 2014,

I had the chance to visit Boulder recently, as I was asked to review a new bar opening, located in an historic hotel, the Hotel Boulderado. While there, I also had the chance to view some of the unique architecture nearby. As a mostly plein air artist, I snapped what looked the most interesting, which happened to be a very interesting looking church. It looked very gothic and old, with a lot of life in it. Thus I walked around and snapped, also trying out some of the settings on my new Nikon 7100. I tried superimposing some tree limbs posing in front of the church, but in the end didn't look right, after review. The windows were awesome, not what I would consider normal for stained glass. They were mostly a mottled blue. But framed in yellow, it looked amazing.

As I walked around the church, there was another beautiful window, but was obstructed by a tree. I thought I was lucky I was there in the spring, as I could still see the window, with the budding leaves. A few weeks later and I wouldn't be able to see much of that window. One of those shots has turned out to be one of my favorites.

After doing a little research, I discovered the church had a very interesting and prolonged history, as part of the Boulder community. As I read more, I found the building to be part of a revival of Gothic architecture, which led me to finding out more about the Gothic revival movement in architecture in Colorado. While numbering in the small dozens, I can't wait to find more of these buildings in the Denver metro, as they appear stunning.